Tigers land Blake Harris
When Blake Harris arrived in Columbia for his official visit on Friday, he had absolutely no plan to commit.
But after being impressed with the coaching staff, facilities and students while in Columbia, he decided to wrap things up before leaving.
"I didn't think I needed to look at anywhere else," he told PowerMizzou.com. "Me and Michael (Porter Jr.) since last summer we were going to play together."
The former Washington commit spent the most time with Porter Jr., Kevin Knox and Tigers point guard throughout the visit. The three visitors all know each other through the grassroots hoops scene and had been good friends well before they stepped on campus.
Prior to the visit, Harris didn't know much about Missouri coach Cuonzo Martin, other than that one of his assistants at California had recruited him a little bit.
The three-star recruit was impressed with Martin's sales pitch and how tough he came off.
"He's not guaranteeing nobody any spots so I have to fight for what I want," he said. "He said I could be one of the best passers in the country."
Harris said all three visitors were blown away by the treatment Missouri's students gave them on the visit.
A lot of the university's fraternities hung signs encouraging Harris and Knox to commit and students asked the trio for a picture everywhere they went on campus.
The Raleigh, North Carolina native admitted he hasn't visited a lot of schools so he doesn't have a great idea on how common that is but Porter and Knox reassured him.
"I talked to Michael and Kevin about it and they said nobody else has ever treated them like that," he said.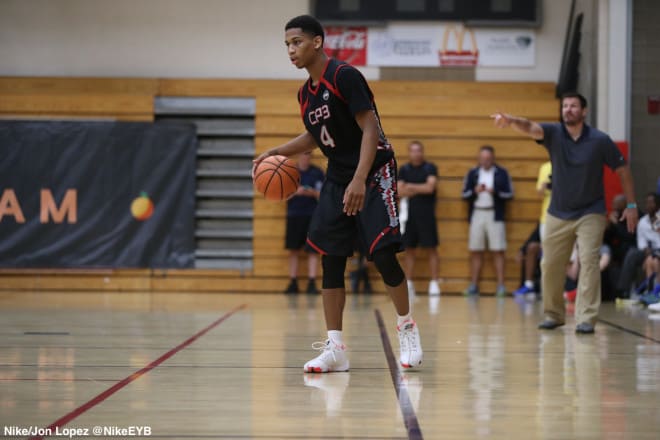 Harris joins Porter Jr. and Texas native C.J. Roberts in the Tigers 2017 class and will now turn his attention to Knox, who is considering the Tigers along with Duke, Florida State, Kentucky and North Carolina. With Harris' commitment Missouri still has two open scholarships.
The no. 142 ranked player in the Rivals150 said he's already joined Porter in the recruiting efforts to land him.
"I'm going to go hard on him," he said. "I hope he does what's best for him but he would be a great addition to what we have."
Harris is coming off a terrific high school season with Word of God Academy, a national power that produced NBA star John Wall.
He plans to spend the next few weeks working on his jump shot and adding strength in the weight room before heading to Columbia in the summer.
"Blake Harris is one of the top passers in all of the 2017 class," Rivals national basketball analyst Corey Evans said. "He has become a much better shooter recently but where he is at his best is attacking the basket and creating for others, an asset that should make life much easier for someone like Michael Porter Jr. All in all, he should be a fine four-year contributor and someone that can help Missouri on both sides of the ball."
Harris is currently undecided on a major at Missouri. Prior to committing he had also planned visits to Rutgers, Michigan State and Connecticut.
With Harris now on board, expectations continue to rise for Missouri in Martin's inaugural season. Harris said the recruits don't mind the pressure.
"I don't like losing so I'm not going to go for anything but winning games," he said. "I hope we can win it all."