Tilmon to test draft waters
The college basketball offseason is as much about keeping the players you have as it is adding new ones. Cuonzo Martin has encountered his first speed bump in that challenge for this offseason. Missouri sophomore center Jeremiah Tilmon will enter his name into the NBA Draft sources told PowerMizzou.com. The school confirmed this news in a release on Monday morning.
"It's always been a dream of mine since I started playing basketball to make it to the NBA," Tilmon said in the statement. "I want to get everything I can out of this process. I'm excited to learn from it and get the feedback I need."
"Jeremiah has a chance to take advantage of a valuable opportunity and gather information through the process to help him moving forward," head coach Cuonzo Martin said. "We fully support him using the resources available and we'll assist him in any way we can."
That does not mean Tilmon's time as a Tiger is necessarily done. New rules instituted in 2016 allow a player to go through the pre-draft process and return to school. This year's NBA Draft Combine is May 14th through 19th. Players who have entered their name in draft consideration have 10 days after that to announce their intention to return to school. That means Tilmon has until May 29th to decide to return for his junior season.
A new rule change even allows players to sign with an agent and return to school. Certified agents are allowed to pay for meals and transportation for players and their families during the process without jeopardizing the player's eligibility. But if the player chooses to return to school, he must sever the relationship. A source told PowerMizzou.com that Tilmon is not expected to sign with an agent, though.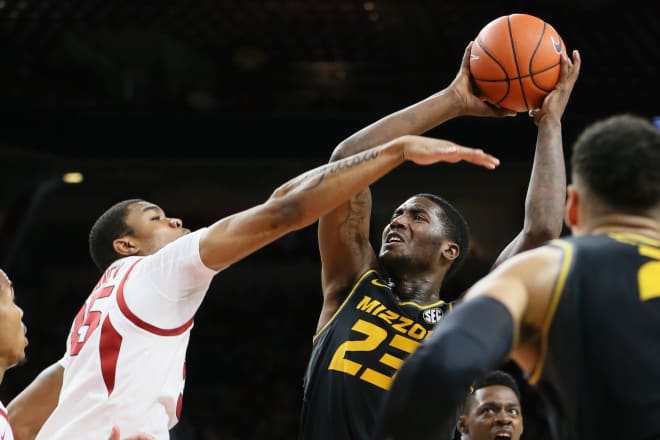 Tilmon signed with Missouri as the nation's No. 45 prospect in the 2017 recruiting class after being released from a National Letter of Intent he had signed with Illinois. He was a starter from day one as a freshman, averaging 8.2 points, 4.2 rebounds and a blocked shot per game. He also averaged 7.5 fouls per 40 minutes, limiting him to 19.5 minutes per game.

As a sophomore, Tilmon's production jumped to 10.1 points and 5.9 rebounds per game. He still averaged 5.9 fouls per 40 minutes and fouled out of ten games, but he averaged more than 24 minutes per game as a sophomore.
Tilmon is expected to be a centerpiece of Martin's third team at Missouri in 2019-20. He is the only returning player over 6-foot-5 who played more than 28% of the team's minutes last season. When he has been on the floor, he has been one of the SEC's most productive and dominant post players. He shot nearly 55% from the field and was among the nation's top 250 players in offensive rebounding percentage and blocked shot percentage last season.
Mitchell Smith and Reed Nikko are both slated to return for the Tigers, though they combined to play more than 24 minutes (Tilmon's average) only twice last season. K.J. Santos, who struggled during his first season at Mizzou and saw his playing time disappear late, entered his name into the transfer portal last week. Santos played just 11 minutes in the last five games of the season and didn't see action in three of the five. Missouri will add 6-foot-8 Tray Jackson as part of its 2019 recruiting class, but without Tilmon, there would be an urgent need to add an immediate impact big man in the late signing period.
The Tigers currently have two scholarships available, though that should double regardless of Tilmon's future. There has been no official announcement from Jontay Porter, but it is universally expected that he too will enter the 2019 draft, despite tearing his ACL for the second time two weeks ago. The deadline for Porter to declare his intentions is April 21st at 11:59 p.m. Eastern time.
Today's news may ultimately be of little consequence for the Tigers. Tilmon has the option to return to school at any time between now and May 29th, just as Jontay Porter did a season ago. But if Tilmon chooses to stay in the draft, the Tigers' roster has a huge hole to fill this summer.