Tragedy averted: "We just saved someone's life"
As high school teammates at Blue Valley Northwest for three years, Parker Braun, Christian Braun and Max Johnson are used to working together. Parker and Max even spent their freshman year at Missouri as roommates. But no amount of chemistry could have prepared the three friends for what they came upon one night in downtown Columbia a couple of months ago.
Christian, a freshman basketball player at Kansas, had played a game with the Jayhawks and had some time off afterward. He used it to watch his brother and visit Parker and Johnson, a sophomore at Mizzou. After the Tigers' game (none of them remembered exactly which one it was), the three friends went to eat in downtown Columbia and were walking back toward their car.
That's when they came up on a commotion as they were approaching a parking garage.
"I thought a fight was about to break out," Johnson said.
"We saw these two guys were like screaming," Parker said. "(One of them was) like, 'Man, I'm out here in my pajamas, like I'm out of here.'
"And we look up, and like this dude's like on the edge of the parking garage, and we're like, 'Is he gonna jump?'"
Some five or six stories up, a man was perched on the edge of the parking garage's top floor. Since the city completed a garage at the corner of 5th & Walnut Streets, six people have committed suicide by jumping from the garages in downtown Columbia. On this night, a man who Johnson said he thought was in his late 20s or early 30s was going to become the seventh.
"It blew my mind because people were just kind of walking by," Johnson said. "if someone was going to do something, we were the ones."
Johnson said he exchanged glances with Christian Braun.
"I looked at Christian and I was like, we should do something, right?" Johnson said. "He was kind of in shock too, but he just gave me that look, like, probably.
"Once I got that kind of okay in his eyes, I ran up like six floors. I booked up the stairs and Christian followed me and Parker stayed on the ground to talk to him."
As his brother and his friend raced up the steps, Parker stayed at ground level, trying to distract the man with conversation.
"I was like hey, how are you, what's your name," Braun said. "I knew they wouldn't take that long to get up there. I was just trying to keep him busy."
With Braun acting as crisis negotiator, Johnson was the first up the stairs. Christian was behind him, but Johnson didn't know that when he took off.
"I was praying," Johnson said. "As I was running up the stairs I just said, please don't let me hear a smack. I just went fast."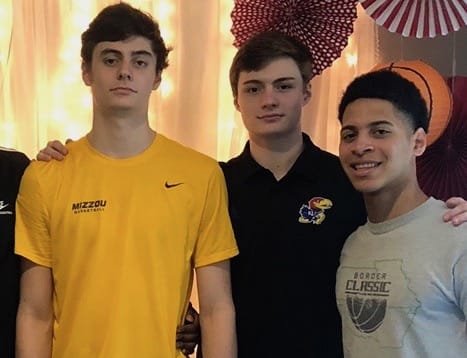 When the two got to the top level of the garage, they saw the man was wearing a backpack.
"I knew that I couldn't talk to him," Johnson said. "Our time was limited. I had to work fast, but not freak him out. He was ready to jump."
It was Johnson who approached the man. He grabbed the backpack, assuming that the weight of it and the momentum would carry the man back off the ledge. Johnson pulled the man off the ledge and immediately tried to hold him down.
"Max was the guy that really pulled him off," Christian said. "It was a pretty awesome moment for me, just being a part of that."
Christian Braun joined Johnson and helped restrain the man for about 20 minutes before University Police arrived on the scene.
"I don't even know who called the police," Parker said. "It wasn't us."
"I'm so thankful that Christian followed me," Johnson said. "He's about to end his life, I didn't know if he was going to have (a weapon) on him. Christian said that's why he came up too because he didn't want anything to happen to me."
Johnson said when the police arrived, they asked if the man had been on the ledge.
"His feet were like hanging off," Johnson said.
The police took down Johnson's information. None of the three rescuers know the man's name or anything about him. They have not talked to him since that night.
"I honestly didn't ask his name," Johnson said. "We were just hugging him."
"The only solace is that they're going to get him and take care of him," Parker Braun said. "I remember talking to the guy. He's like 'I got no family, no friends.' So he's probably somewhere else. Hopefully he's still good."
Weeks later, the three don't remember much about what they were thinking as the rescue unfolded.
"It's hard to even recall," Johnson said. "Something went through all of us. We were calm when we did it. We had no option. When we saw it we were like, we've got to do something.
"I'm not crazy religious like that, but it really wasn't me. I can't even think when I go back to it."
None of the three told many people about the experience. They relayed the story to some family members, but didn't spread it. People involved with the Missouri basketball program were unaware of the story until we asked to talk to Parker Braun about it.
"We didn't like go bragging about it," Parker said. "We just kind of saw it as doing the right thing."
They said their parents were emotional and proud when they heard the story. But none of them did it for recognition. In the weeks since, the friends have often talked about that night. What if they hadn't been there?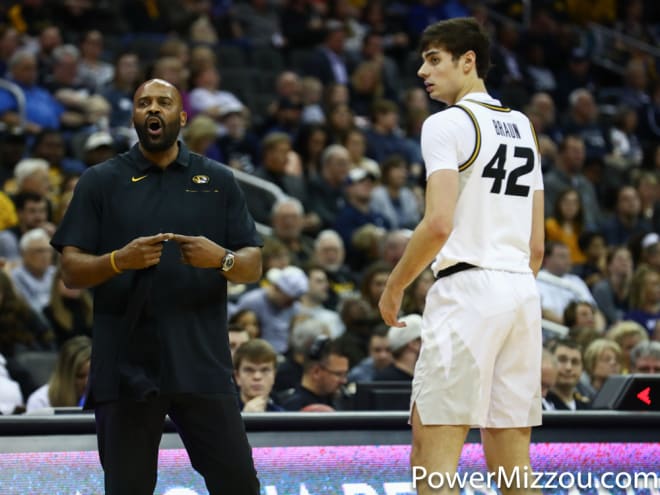 "Even the guy before us, what if he didn't yell and we couldn't get to them?" Parker Braun said.
"We weren't sure if we were going to leave the apartment (that night)," Johnson said. "We've always just been different. We're not scared to do anything. If someone needs help, we're gonna help them out."
Johnson and Parker Braun both said they'd never had any close experiences with suicide before that night.
"I get people go through stuff," Johnson said. "They just need that person to kind of reach out to them."
There were more than 47,000 reported suicides in the United States in 2017, the last year the data is available. That is the highest recorded number in more than three decades. Between 1999 and 2014, the number rose 24%. Were it not for Johnson and the Braun brothers, one more name would almost certainly have become a harrowing statistic.
"I've done some cool things with those guys," Johnson said. "Playing basketball, we won state championships. But when we were at the top of the parking garage, that was the coolest moment, because we just saved someone's life."
—Shay Wildeboor of JayhawkSlant.com contributed to this story.
—Anyone who needs help can reach the National Suicide Prevention Lifeline 24 hours a day by calling 1-800-273-8255 or chat with someone online.