Voice of the Fantlebury: Bryant's surprising senior season
Kelly Bryant has played five and a half games at Missouri, and he's already just one touchdown pass shy of his previous season high.
Incredible what a change of scenery can do.
In 2017, Bryant's first (and only) first full season as the starting quarterback for Clemson, he threw 13 touchdown passes on 398 attempts. This season, Bryant already has 12 touchdown passes on 180 attempts. He's averaging 262 yards per game; in 2017, he averaged 200 YPG.
He's done all this while only attempting, on average, 1.5 more passes per game and completing, on average, one more pass per game.
What Jalen Hurts and Joe Burrow are doing at their respective transfer schools is dominating the headlines, and for good reason. This isn't to suggest that Bryant's season should be talked about in lock-step with those two. But what Bryant is doing — and how he's doing it — is something that's a welcome surprise for Missouri fans.
Why is it a surprise?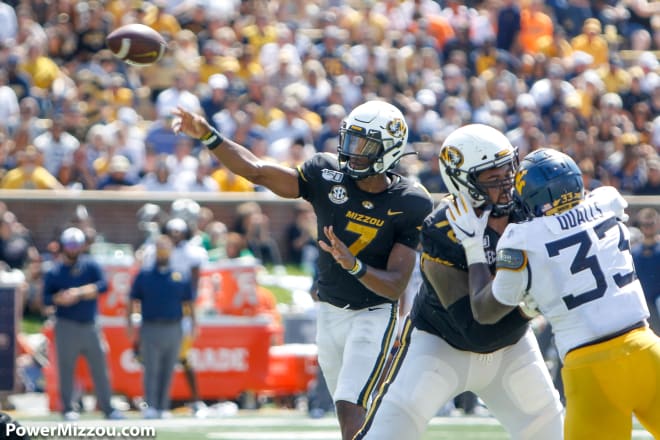 For one, it's a surprise because at Clemson, with superior talent surrounding him, Bryant didn't display this kind of passing proficiency.
In 2017, Bryant averaged seven yards per attempt; this year, he's averaging almost two full yards more (8.8). Part of that is likely due to how Bryant is using his legs. Rather than escaping the pocket and getting upfield, Bryant is buying time for his receivers to ad lib; that's been a recipe for longer passing plays, especially on crossing routes. Through six games in 2017 compared to this year, Bryant ran the ball 40 more times.
It's also surprising when you stop comparing Bryant to Bryant. If you compare Bryant to Missouri quarterbacks over the last decade, you can make the case that he's having the second-best half-season in that span.
Here's where Bryant ranks in the major passing categories over the first six games, dating back to 2010:
Attempts: T7 (180)
Completions: T4 (117)
Percentage: 3 (65%)
Yards: 6 (1575)
YPA: 1 (8.8)
TD: T5 (12)
INT: T3 (4)
Rating: 2 (156.06)
The other six-game start that comes most similar to Bryant is James Franklin's 2013 season. That year, Franklin completed 67.7 percent of his passes for 1,577 yards, 14 touchdowns and three interceptions for a 156.24 passer rating. Bryant is currently at 65 percent for 1,577 yards, 12 touchdowns and four touchdowns for a 156.06 rating. The biggest difference is what fans thought Bryant would be doing so well; currently, the Clemson transfer has one rushing touchdown where Franklin at three at the same stage.
(Another similarity in those two years? Both suffered a potentially significant injury in the first half of the year. Bryant missed one half from an potentially serious knee injury; Franklin missed four games after injuring his shoulder in 2013.)
Bryant isn't going to break any records at Missouri -- he's not going to challenge any of Drew Lock's passing numbers. But his efficient play has been the most welcome surprise for the Tigers in 2019, and bodes well for their finish with the SEC East laid out perfectly for their taking.