Voice of the Fantlebury: November to Remember?
Trick-or-treaters have given way to Christmas carols, the government has forced early, unnecessary darkness upon us and men in office buildings everywhere are growing disgusting, put-me-on-a-watchlist facial hair.
That's right, folks. It's November. And for Missouri football, that means it's time to be remembered.
For the last two Novembers, Missouri's gone undefeated. The Tigers' last November loss was on November 19, 2016, a game where they put up 740 yards of offense and lost by twenty-six points — man, the Heupel years certainly were something.
And, for the first time in Barry Odom's tenure, the Tigers are over .500 into the regular season's final month!
(Last stat brought to you by MUTigers.com)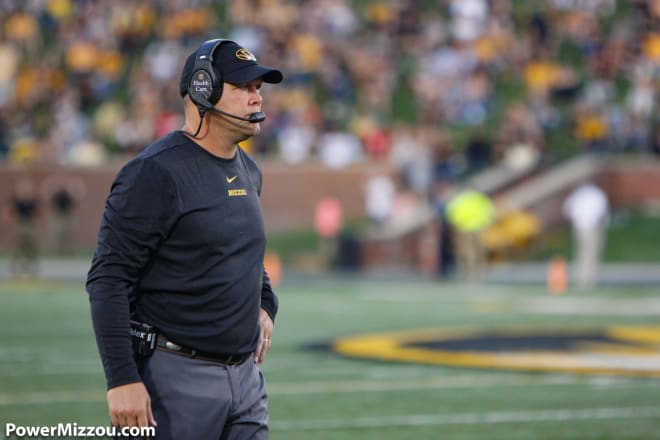 Odom as Mr. November is about to face its stiffest challenge yet, though. In the next two weeks, Missouri will face back-to-back ranked opponents. From 2016 through 2018, Missouri faced one ranked opponent in November. The Tigers famously beat that one ranked team, as the win over Florida happened in November, so we remember, as is tradition.
And if Missouri wins THIS November? Well it's going to be remembered.
I don't think I'll be holding my breath, though. When Missouri left Columbia for this three-game road trip, it was (1) ranked, (2) in first place in the SEC East and (3) still waiting ruling from the NCAA. Now, Missouri is poised to finish this road trip (1) unranked, (2) in third place in the SEC East and (3) still waiting ruling from the NCAA.
Some things never change.
Basically, Missouri was like me leaving for college, only to return at Christmas break 20 pounds heavier with a drinking problem.
Unlike me, however, the underlying problem that led to Missouri's midseason swoon is harder to pinpoint. That much is clear from Odom's pre-Georgia press conference where we found out that Kelly Bryant may or may not play against the Bulldogs, Albert Okwuegbunam is in shape despite ESPN apparently being told he isn't and confidence is still high in Tucker McCann despite being 4-for-8 over his last four games (with a 4-for-4 game mixed in there).
The underlying problem might be in figuring out what Missouri's staff wants this offense to be. Derek Dooley told reporters on Tuesday that against Kentucky, once Kelly Bryant injured his hamstring, the offense became too reliant on hand-offs or dropbacks, becoming predictable. But Bryant hasn't been a huge part of the rushing attack this season, going for 205 yards through eight games. Missouri's been effective offensively against teams when Bryant hasn't been a threat on the ground (14 yards rushing in a 562-yard offensive performance against Ole Miss, for instance). So why was there no contingency plan, even with the rain?
And don't get me started on Okwuegbunam's usage this season. This is his third year for Missouri; if the staff hasn't been able to figure out how to game plan around teams double-covering him yet, it's not going to happen before he leaves for the NFL.
So what's Missouri's best path to make this another November to remember? For one, they need to go into a shell against Georgia. If Bryant truly isn't 100-percent, then rest him, go conservative on offense and lean on a defense that's been pretty good at stopping opponents without run-first quarterbacks. I'm not hoping for another 9-6 game in Athens like in 2015 (I wouldn't wish that on anyone, to be honest), but the Tigers should go conservative, meticulous and ground-heavy against the Bulldogs, trying to shorten the game as much as possible.
A 3-1 November would be a definite success for the Tigers. A loss to Georgia could still be a springboard for a strong finish. But, for the first time in the Odom era, Missouri's November slate isn't a pushover. The next few years of Missouri football could very well be decided by the next four games.
No pressure, right?