Voice of the Fantlebury: Offensive Power Outage
I'm not a big stats guy.
That isn't to say I don't believe advanced stats are useful; I know they are. But whether it's stupidity, laziness or both, I'm never going to be a guy that understands how something like SP+ or WAR in baseball works. I'll just nod my head and agree that all these numbers seem very important and definitely show whether a player or a team is good or bad.
But one thing I've personally overlooked over the last season and a half is how ordinary Missouri's offense looks for long stretches of games. That's happened before, of course. Consistency has not been the name of the game for Missouri's offense (or program) over the last four years, and the offense hasn't just sputtered against teams like LSU or Georgia or Alabama. It's also come to a halt against Purdue and Kentucky -- and, this year, also against Vanderbilt.
There's one stat that sticks out to me as the most troubling, though. Derek Dooley has gotten plenty of praise for his work as Missouri's offensive coordinator, as the players, media and fans (before the last two games) have been very positive of his work as a first-time OC.
Yet there have been warning signs over the last season and a half that there are issues afoot, and these issues tend to pop up in the biggest games.
Missouri's plays over ten yards have taken a noticeable dip since Dooley took over.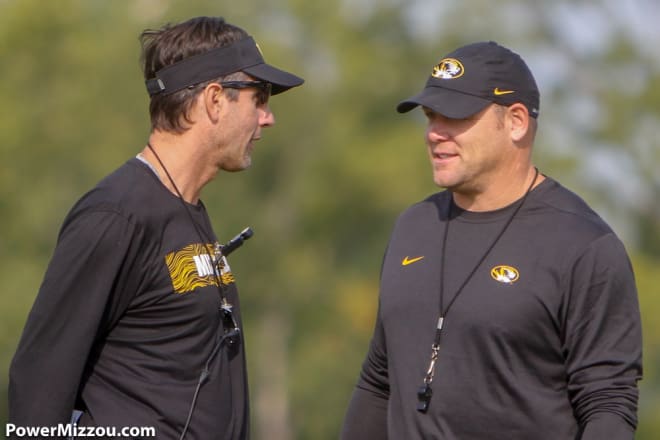 In 2016 and 2017, Missouri finished fourth and tied for first in the SEC in plays over ten yards. In 2017, the Tigers tied with Alabama with 223 plays over ten yards, doing that in one less game. Last year — with Drew Lock, with a strong returning group of skill position players and one of the best offensive lines in the SEC — Missouri dropped to eighth in the conference in that stat. Through eight games this year, the Tigers are seventh.
If you break this down for conference and non-conference opponents, it shows a little more concern. Against non-conference opponents in 2016-2017, Missouri averaged 20.6 plays over ten yards. The last two years, it's dropped to 19.5; not a huge difference.
In conference play in 2016-2017, Missouri averaged 15.6 10-plus yard plays. Under Dooley, it's been 12.9 through 21 games.
Missouri has 17 plays over 20 yards so far in conference play, exactly the same pace as last year (34 in eight conference games). In 2016 and 2017, Missouri had 91 such plays in conference games.
This is a very long-winded way of me saying that this dive in consistency is most troubling this year because it seems like Missouri's offensive staff is trying to round peg-square hole its personnel and play calling. W
ith the struggles of Missouri's receiving group evident the last two weeks and with a less-than-healthy Kelly Bryant behind center, the play calling has seemed to ignore or abandon the run for long stretches in each of its three losses. At some point, Dooley and the staff will have to realize this offense doesn't have the same big-play capability and start simplifying things around what this team does well. That means investing back in the run and finding out ways to open up more holes for Larry Rountree and Tyler Badie — and leaning on a defense that has been solid for much of the season.