What Just Happened? Vol. 9

The Missouri football team's bye week offered a chance to catch up on a little reading. I curled up with Gary Pinkel's autobiography, "The 100-Yard Journey," which he wrote with the help of Dave Matter.
Writing in someone else's voice must be tricky — I've never tried it — but Dave nailed it, taking an unimaginable amount of recorded conversations and converting it into a coherent book that speaks in the coach's voice.
In an effort to not take any money out of Dave's pocket, I won't give away all the plot twists, but — spoiler alert — Pinkel retires after the 2015 season. Although there has been some recent debate about the state of affairs he left for his successor, Barry Odom, there is no denying that Pinkel had a magnificent 15-year career at Missouri. The Tigers finished with winning records in 10 of those seasons and posted double-digit wins five times.
In no particular order, let me address some of the things I learned from the book.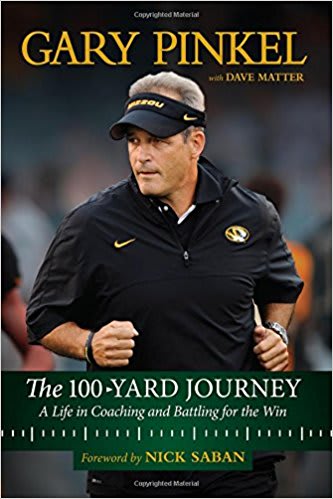 ● Like any motivational speaker, Pinkel believed in finishing pep talks with a call to action. And that call to action almost always involved demanding the kicking of an ass.
Pinkel kept notes of his meetings, and his addresses to the team before some of the biggest victories are included in the book. A sampling: "If we want respect, we kick their ass! (Toledo 36, Purdue 22 in 1997) … They'll respect us kicking their ass! (Mizzou 41, Nebraska 24 in 2003) … Have fun Saturday at 7:10 kicking Oklahoma's ass. (Mizzou 36, Oklahoma 27 in 2010) … Kick their ass! (Mizzou 24, Kansas 10 in 2011) … Have fun kicking their ass! (Mizzou 51, Vanderbilt 28 in 2013)."
I think it really speaks to the meticulous preparation of a coach that he doesn't leave it to chance that he'll remember to throw in the trusty "kick their ass" at the end. Always put it in writing!
● A successful football program is an incredibly fragile thing, which is probably why football coaches are the most paranoid people on earth. Pinkel finished his career with the most wins in Missouri football history and two top-five national finishes. And yet, as he retold the tale of his early years at Missouri, he noted that it might have never happened if one game broke differently in 2005, when the Tigers finished the regular season 6-5 before beating South Carolina in the Independence Bowl.
"Mike Alden never said a word about my job security," Pinkel said in the book, referring to his longtime athletic director. "At the time I never worried about job security. I never talked to my staff about it or my family. But looking back now, the 2005 season could have given us four losing records in five years. How do you convince your fans and your recruits that I'm a pretty good coach if we're home for bowl season four out of five years?"
And even after the 2012 season, when Missouri posted its first losing season after seven straight winning campaigns, Pinkel sensed lukewarm support. Pinkel said Alden mentioned to him after the season that their ultimate boss, University of Missouri System President Tim Wolfe, was questioning the direction of the program.
"His message was subtle," Pinkel said of Wolfe. "He wasn't talking to Mike about firing me, but he might have been laying the groundwork."
Three years later, Pinkel sided with his players in their support of Concerned Student 1950, whose stated goal was the ouster of Wolfe. Not saying one event had to do with the other, but it is interesting how roles can reverse.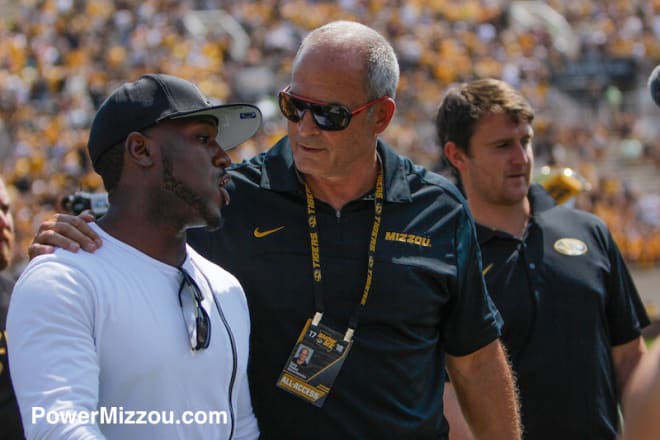 ● It's his autobiography, so it is Pinkel's chance to give his version of what happened during the protests of November 2015. This was the section that held the most interest for me. Given the devastating financial and reputational impact the event had on the university, it's no surprise that Pinkel isn't eager to portray himself as a fight-the-power crusader, as some reporters tried to brand him at the time.
He told the story of being caught off guard at his second home near the Lake of the Ozarks by a phone call from Ian Simon, then a senior safety. Simon said he was concerned that graduate student Jonathan Butler was going to die from his hunger strike protesting racial injustice at the university. Pinkel said he told Simon and fellow players Charles Harris and Anthony Sherrils that a boycott wasn't the solution and raised the possibility they were "getting played here."
Pinkel said when they didn't change their mind, he ultimately followed athletic director Mack Rhoades' advice — which he agreed with — that they needed to support their players.
"If I had it to do all over again, I'm not sure what I could have done differently," Pinkel said in the book. "The football staff and other Mizzou athletic programs would surely struggle recruiting African American players had this unfolded differently. At that point I had already decided to retire at the end of the season, but I still cared about the future of the program. I didn't want to see what I built left in ruins."
● Piggybacking on that last sentence, while I was reading the final chapters — almost like someone at a horror movie yelling at the unwitting victim to avoid going into the cellar to check on the suspicious noise — I was wishing Pinkel would retire in the spring of 2015 after he was diagnosed with cancer. His career would have ended neatly with back-to-back SEC East titles.
As Pinkel described his final years, I read them with the context of what has happened since, as the program has sunk to the bottom of the SEC. Whether or not Pinkel left behind a program in ruins, as Odom seemed to suggest with his comments after the Auburn loss, it is fair to ask whether the recruiting and attention to detail dropped a bit as the real world intruded.
Pinkel described driving back and forth to the Lake of the Ozarks to spend time with his second wife, Missy, and her school-aged children, whom they didn't want to uproot with a move to Columbia. He described going to the Mayo Clinic in Minnesota for cancer treatments so he wouldn't be spotted at a Missouri hospital. I think any normal human, having already achieved great professional success, might prioritize his time a little differently and value his personal life a little more when suddenly faced with a life-threatening illness.
Perhaps that contributed to Pinkel not being connected enough to his players to know frustration was brewing in November 2015 or to convince them there was a different way to express their frustration than a threatened boycott.
That's just guessing on my part. But doing the job successfully does take such all-consuming attention, it would be harder to be a hungry and focused 60-something man facing his own mortality than a 40-something man who thinks nothing is as important as winning.
● Lastly, I wanted to touch on two incidents that weren't in the book — and it's possible that Pinkel wouldn't remember either one of them — but stood out to me as telling episodes.
In 2003, Missouri lost at Kansas 35-14. The postgame interviews were held outside the locker room, and as Pinkel made his way to the designated spot, a Missouri fan leaned over the railing and shouted a derogatory comment at him. The Kansas City Star's Mike DeArmond, never shy about poking a bear, asked Pinkel right out of the shoot if he had heard what the fan said.
"What do you want me to do, cry?" Pinkel snapped.
Twelve years later, there was a similar incident but a different reaction. After Missouri lost at Vanderbilt 10-3 — three days before Pinkel told Rhoades he planned to retire — a handful of reporters gathered around Pinkel on the field in an almost deserted stadium. I say "almost deserted" because there was one fan in Missouri gear still on the premises.
He screamed: "Hey, Pinkel, you suck!"
The coach paused for a full beat, and a look of sadness came over his face. None of us had the cojones of Mike DeArmond, who had since retired, so we let the moment pass, and Pinkel eventually resumed talking.
I kept rewinding and replaying that part of the interview after the game. The way the guy screamed it was kind of funny. He really brought it all the way from the diaphragm. On that day, he truly believed Pinkel sucked and that it was important for Pinkel to know it. But as I listened, I also put myself in Pinkel's position and thought, "My God, it is never enough."
The man had taken a perennial loser and guided it to two top-five national finishes, had taken his last two teams to SEC East titles, had won more games than any other coach in school history … and it wasn't enough for that drunk idiot.
Actually, a better title than "The 100-Yard Journey" would have been, "I Had Fun Kicking Ass … But It Wasn't Enough For That Drunk Idiot."