Why it Didn't Work
There was skepticism from day one of the Kim Anderson era. The doubts existed at the very start. Anderson himself knew it. About three minutes into his opening statement at his opening press conference (paragraph four according to the transcription by MUTigers.com), Anderson addressed those doubts:
"I'm not really a long-winded guy, but anytime a new coach comes in there will be some questions. I've heard some of them already about my age, my ability to recruit, my staff and my division I head coaching experience. These are some of the things I've learned in the past 24 hours."
This column is about why it didn't work for Kim Anderson. About how the skeptics were proven right. And make no mistake, they were. Even his biggest detractors couldn't have foreseen it going as badly as it did in just three years.
First off, let's get out of the way the reasons that don't hold water. Kim Anderson didn't fail because he doesn't know how to coach. He knows X's and O's as well as most coaches. He didn't fail because he looks too stoic and doesn't stomp up and down the sidelines. He didn't fail because he doesn't know when to call timeout. And, despite popular message board blathering, he didn't fail because he demanded his kids sit up straight and look presentable at press conferences.
Kim Anderson didn't go from a Division II National champ to a guy that doesn't know how to run an offense in three years.
Those are not the reasons he failed. But fail he did. Now here are the reasons why: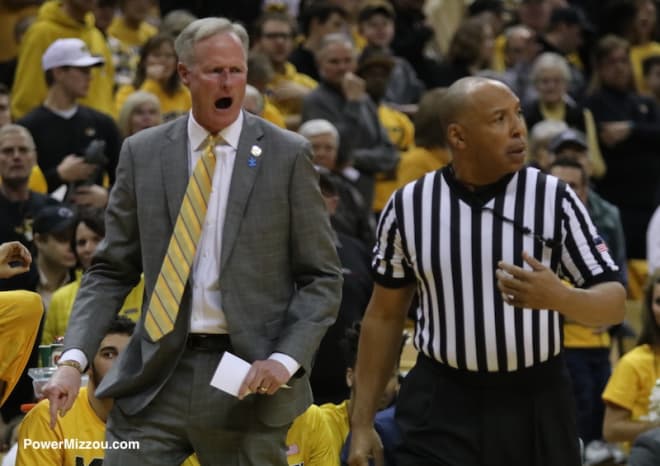 RECRUITING
This is the reason most coaches fail. In college sports, recruiting is more than half the job. In college basketball, it's probably more like 75 to 80 percent. You have to have the guys. Kim Anderson never had the guys.
Missouri infamously had a recruiting weekend on which it hosted Thomas Bryant, Antonio Blakeney and Isaiah Briscoe on the same weekend. They got none. Michael Porter Jr. and Xavier Snead and Jeremiah Tilmon and Tyler Cook all left the state of Missouri to sign with other programs.
Bottom line, Kim Anderson couldn't get the guys he targeted. And on any list of reasons he didn't get the job done at Missouri, that's number one. Any list that starts with any other reason is simply wrong.
EVALUATION
This dovetails off of recruiting. Missouri didn't offer O.G. Anunoby. He's going to be a first-round NBA Draft pick this year despite suffering a knee injury. It also didn't offer Juwan Morgan. Both played high school basketball within 90 minutes of Columbia. Not only did Anderson's staff fail to land many of the guys they identified, but they also identified the wrong guys in some key cases.
COACHING STAFF
This is one place in which I don't put the blame fully on Anderson. Part of him getting the job was agreeing to keep Tim Fuller on the staff. The administration and boosters viewed Fuller as the key to keeping Namon Wright and Jakeenan Gant on board. They viewed Wright and Gant as key pieces in building a program that could be successful. Both signed and both transferred after their sophomore seasons. Neither seemed to really buy into what Anderson was selling and, honestly, Anderson didn't seem to be all that enamored with either one of them himself.
Fuller was forced out after yet more NCAA violations which put Missouri back in the spotlight for the wrong reasons.
Tim Fuller and Kim Anderson never made any sense together. They just weren't going to mix. And they didn't.
Anderson brought in Rob Fulford, who helped land Teki Gill-Caesar, but couldn't convince Bryant to follow him from Huntington Prep. Corey Tate was hired ostensibly to lock up some of the 2016 and 2017 talent in St. Louis. He delivered none of it, went to St. Louis University and started getting some of it. Brad Loos has had far more pressing issues than basketball, Steve Shields was brought in to fill the void. Emmanuel Dildy replaced Tate, but never had a chance to prove whether he would make an impact or not in his year on the job.
For Anderson to work, he was going to need to surround himself with dynamic recruiters. He didn't.
ADMINISTRATIVE BUY IN
Nobody really knows how exactly Missouri ended up hiring Kim Anderson. We don't know for sure who made the ultimate choice. But Mike Alden had three chances to hire Anderson and he didn't do it. Did Alden somehow have an epiphany in 2014 and decide this was the time he was finally ready to hand over the reigns to one of Norm Stewart's loyal lieutenants? It's possible. It isn't all that likely.
Either way, Alden was the man that stood at the podium and claimed that he had scoured the country and decided the best man for the job was a man who had been a candidate thrice rejected in the previous 16 years. Even better, Mizzou paid a search firm $75,000 to hire a guy 75 miles away who everyone in America knew would have dropped everything to ride his bike from Warrensburg to Columbia to take the job.
Who made the hire? We don't really know. We may never know. But it was far from a unanimous conclusion to hire Anderson. And within a year-and-a-half of making the decision, every single person in a position of authority who hired him was gone.
UMKC
As I said, there were skeptics from the start. And those skeptics got all the ammunition in the very first game Anderson coached. The Tigers lost 69-61 to UMKC. The University of Missouri cannot lose a basketball game to the University of Missouri-Kansas City. It especially cannot do so when a majority of the fanbase is looking for reasons to prove that the head coach cannot do the job he was hired to do. Fair or not, many fans drew their final conclusions on Kim Anderson on November 14, 2014, approximately six-and-a-half months after he was hired.
ROSTER STABILITY
This is the one thing even the skeptics assumed Anderson would bring. The Frank Haith era was successful on the court. Haith won 73% of his games (even if the NCAA doesn't count 23 of them) and went to two NCAA Tournaments in three years. But there was always this feeling that Haith was bailing water just quickly enough to keep the boat running.
Haith's hire was met with probably even more skepticism than Anderson's. After a phenomenal first year with Mike Anderson's roster that ended in a crushing loss to Norfolk State, Haith went the band-aid route rather than having surgery. He brought in a parade of transfers and junior college players to piecemeal together rosters over the next two years that kept Missouri winning at a relatively high level on the court, but never offered a foundation for long-term success (As an aside, to be fair, if Mike Dixon doesn't get in trouble and ultimately have to leave, Haith's tenure may have looked a whole lot different, he may never have bailed for Tulsa and Anderson may never have gotten the job here).
When Haith left, Anderson inherited his players. It became clear very quickly that Frank Haith's players and Kim Anderson as the coach wasn't a match. Blame whoever you want. Some of the kids most certainly were not model citizens with exemplary work ethics. But Anderson has to share some of the fault as well. Part of a coach's job is to turn some of those kids around, not simply to cast them aside and find players with whom he can better work. Especially if those players turn out to be less talented.
Within his first two-and-a-half seasons, 13 players had transferred out or been dismissed. That is a full roster's worth of scholarship players gone in less than three calendar years. The Anderson era made the Haith years look like a rock in terms of stability.
Anderson eventually tore it all down. But he didn't do it quickly enough. Perhaps with all of his guys in his system for a second season, things would have improved. Maybe even drastically so. It's unlikely and hard to believe, but we'll leave it out there as a possibility, no matter how remote. But we'll never find out because he took too long to make the changes and the first three years were so bad on the court, there was no way to justify a fourth.
Anderson's supporters (and there are still a few, though they dwindled with each of his 67 losses in 93 games) will tell you that he was never given a chance. He was hired to take over a roster in flux, to coach a team who's leading returning scorer averaged only 5.9 points the season before. He was forced to keep an assistant coach he probably didn't want and definitely couldn't work with. He had the cloud of an NCAA investigation over his head.
All those things are true. They also could have been overcome by the right coach. Kim Anderson wasn't that coach. Missouri lost 20 games for three consecutive seasons. It's not only the first time that had happened in Mizzou history, but the first time it had happened to any SEC team ever. The Tigers set the school record for consecutive losses. Twice. They set the school record for losses in a season. Twice.
It was time. It's an easier argument to say Missouri made the move a year too late than a year too early. Many who follow Mizzou wanted desperately for this to work. It would have been such a fantastic story. It did not work. It failed more miserably than even the most vocal opponents could have imagined.
Jim Sterk now embarks on the search to replace Kim Anderson. Missouri has made two very poor hires in a row. It can't happen again. Sterk's job is to get this right. The future of a program depends upon it.