Commentary: The Case Against Change
The easy column to write is that Barry Odom isn't getting it done. He can't beat good teams and his teams are still making mistakes and DAMN IT WE AREN'T GOING TO SETTLE FOR MEDIOCRITY ANYMORE.
Easy columns get a lot of hearts clicked on Twitter and have a lot of angry fans giving you cyber attaboys. They play to the mob and they make a lot of people feel better that they have a media member on their side who is frustrated and isn't going to take it anymore.
Here's the other thing about easy columns: They don't take much actual thought and they generally aren't very good.
So, yeah, I'm going to take the other side here and build the case for why Missouri fans need to settle down and put some thought into things before launching Odom's pink slip out of the cannon at Faurot Field the first time Memphis scores a touchdown this week (and I've got bad news, the visiting Tigers are going to score a touchdown...and probably more than one).
So if you're still reading and not going to The Tigers' Lair to tell me what an idiot I am, let's lay this out using some actual real points and data.
IT TAKES TIME TO RESTOCK THE CUPBOARD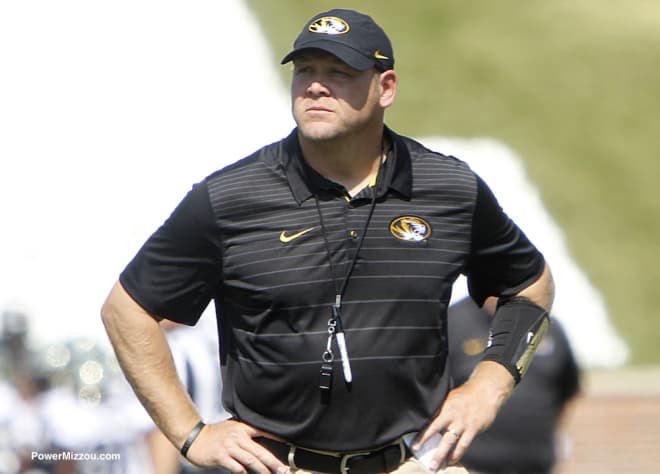 A program like Missouri needs to be built on strong upperclassmen. The elite teams in college football bring in four- and five-star prospects who are ready to contribute right away and who actually might even be better than the players ahead of them in their first year on campus. The elite teams play a lot of true freshmen. In case you've missed it over the last 130 years or so, Missouri isn't an elite team.
A team like Missouri needs to be built around juniors and seniors that are leading the way with an occasional freshman or sophomore being a star, but mostly with the young guys playing bit parts until at least their third year on campus.
If you want proof, let's look at the guys who were legitimate stars under Gary Pinkel before year three. Here are Pinkel's first-team all-conference players within two years of hitting campus:
Jeremy Maclin, Henry Josey, Sheldon Richardson.
That's it. Three of them. And one was a juco player. Sure, there have been some other guys who made second- or third-team all-conference in their first two seasons, like Sean Weatherspoon. But only the three above were first-teamers and legitimate early superstars.
So the backbone of this team should be the juniors and seniors. Those are largely guys recruited in 2014 and 2015. As I laid out in my mailbag on Wednesday morning, those two classes had 18 players that started on at least a semi-regular basis for Missouri. They had a whopping 24 that either transferred, medically retired or got kicked off the team prior to using up their eligibility. There are another eight players who stayed on scholarship, but never contributed significantly on offense or defense while there are just four who contributed significantly while not starting. The totals are 22 players who made a significant contribution offensively or defensively and 30 who did not. That's a very, very low success rate, especially for a program like Missouri.
The 2016 class was Odom's first, put together in about a month. This is the class that blended players committed under Gary Pinkel and players who were signed by Odom. Here are the significant contributors in that class, broken down by which staff was in place when they committed:
Pinkel: DeMarkus Acy, Albert Okwuegbunam, Tucker McCann, Christian Holmes, Tre Williams, Trystan Castillo
Odom: Cale Garrett, Damarea Crockett, Tre'Vour Simms
I went through the Mizzou depth chart for this week. I counted 43 players who should see significant playing time, including specialists. Of those 43, 24 of them have committed to Missouri since Odom became the head coach (I didn't include Emanuel Hall since he is injured, but that would change the number to 24 of 44). Again, we are going on the premise that this is a program that should be heavy on upperclassman contributors. But 55.8% of expected contributors are guys who have committed since December of 2015. Include the six who committed under Pinkel but never played for him and 30 of 44 players (68%) are from the last three recruiting classes.
If you want the number one reason Missouri is struggling, look no further than those recruiting classes. Going back to our all-conference metric, only one player from those two classes has been a first-team all-conference performer at any time (Drew Lock in 2017).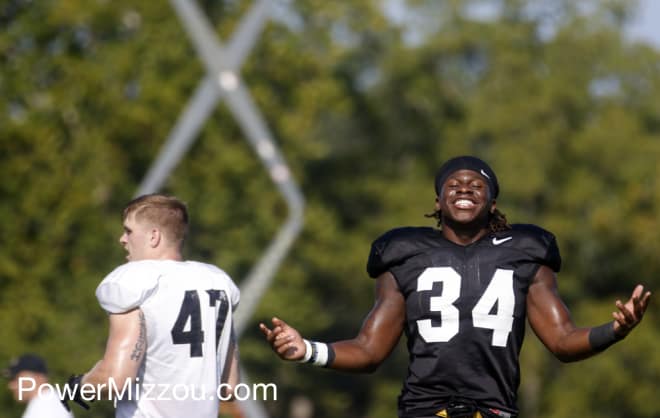 YOUNG PLAYERS CONTRIBUTING
As laid out above, there are a lot of young players contributing on this team. Larry Rountree III is a true sophomore and Tyler Badie a true freshman. Jalen Knox looks like a budding star at wide receiver. Albert Okwuegbunam and Messiah Swinson (he was going to play this year) will be back at tight end and Castillo, Simms and Durant are all back on the offensive line. Defensively, we're seeing more and more of younger guys like Trajan Jeffcoat, Akial Byers, Kobie Whiteside, Nick Bolton, Tyree Gillespie and Joshuah Bledsoe. Holmes, Acy and Adam Sparks all have one or two seasons left to play, as do Garrett, Tre Williams and Chris Turner.
Not all of those players are going to be on an upward trajectory, but a lot of them should be. The fact that Odom is bringing in players who are not only getting on the field, but who are starting and/or making an impact shows that he may be able to unearth some talent on the recruiting trail.
That was Pinkel's biggest strength. He turned guys like Stryker Sulak, Ziggy Hood, Sean Weatherspoon, Danario Alexander and many more that most major programs skipped over into major contributors on good teams. There are tangible reasons to think Odom has an ability to do the same thing.
Is it a sure thing? Absolutely not. But there are reasons to have hope it can happen.
HISTORY OF CONTINUITY VERSUS CONSTANT CHANGE
Throughout his career, Pinkel praised Mike Alden for sticking with him through tough times when a lot of athletic directors wouldn't have done so. After the 2004 season, many Missouri fans wanted him fired. Pinkel had made a bowl game in 2003, but slipped back to 5-6 in his fourth year and had a cumulative record of 22-25 at that point. Alden kept him. The Tigers clawed into a bowl game the following season, won eight games in 2006 and then broke through for an historic season in 2007.
There is no proof Odom can follow Pinkel's trajectory. The odds, frankly, are against it. But in three years, he's gone from 4-8 to 7-6 to what looks like it should be at least 7-6 this season (if it's worse, the case for keeping him gets much more difficult to make. Missouri has to at least play in a bowl game or this discussion is probably moot).
Those on the other side will argue that Pinkel took over a far worse program that Odom. The Tigers in the two years before Pinkel were 7-15 and missed bowl games both years. Odom did take over a team that had won the SEC East two years before...but also took over in the wake of a player boycott that made national headlines and not only torpedoed the program, but greatly damaged the ability to recruit both players and coaches.
Pinkel's 2003 team had four first- or second-team all-Big 12 players. All were here when he took the job. The driving force behind that team, Brad Smith, was not and Pinkel most certainly deserves credit for bringing him in, but the roster did have some players on it. Odom's does too, but the situation he inherited was closer to Pinkel's than many will admit.
So, again, Odom may not become Pinkel. He may be here three more seasons and never get past seven wins. If that's the case, Missouri probably moves on by then. But assuming he gets to a second bowl game in three years this year, he deserves the chance to see if he can take the next step.
There is history at Missouri to show that recycling coaches every few years isn't successful. From 1978-83, Warren Powers went 43-26-2 and made five bowl games in six months years (when it was tougher to do than it is now). He went 3-7-1 in 1984 and was dismissed. Over the next 15 seasons, Missouri tried three coaches who combined to go 60-115-4. Only Larry Smith (twice) made a bowl game in that span. Pinkel came in and got to a bowl in 2003, but at the end of the 2004 season, Missouri had made just three bowl games in 21 seasons and had never won more than eight games in a year. Alden stuck with Pinkel and his patience was rewarded. Pinkel's best season came in his seventh year. It takes time to turn a program around. Usually more than three seasons.
Missouri Coaches' Record Through Three Seasons Since Don Faurot
| Coach | Years | Record | Best Season |
| --- | --- | --- | --- |
| Dan Devine | 1958-60 | 22-9-1 | 11-0 in 1960 |
| Al Onofrio | 1971-73 | 15-20 | 8-4 in 1973 |
| Warren Powers | 1977-79 | 23-13 | 8-4 in 1977 & 1979 |
| Woody Widenhofer | 1985-87 | 9-24 | 5-6 in 1987 |
| Bob Stull | 1989-91 | 9-22-1 | 4-7 in 1990 |
| Larry Smith | 1994-96 | 11-22-1 | 5-6 in 1996 |
| Gary Pinkel | 2001-03 | 17-19 | 8-4 in 2003 |
IF NOT HIM, THEN WHO?
This is really the crux of the argument. There were six new head coaches hired in the SEC last offseason. Only two of them had been head coaches before. Florida hired Dan Mullen from Mississippi State, which is a move 99% of coaches would make. Texas A&M got Jimbo Fisher from Florida State, which was a situation where Fisher simply wasn't happy with the administration at his old place and got a very pricy lifeline.
The other four hires were either interim holdovers (Matt Luke), coordinators (Jeremy Pruitt, Joe Moorhead) or a coach in a smaller conference (Chad Morris).
In this morning's mailbag, I laid out the heirarchy of coaching jobs in the SEC
Georgia, Tennessee and LSU are in that tier above Missouri. Their most recent hires are two coordinators and a promotion from within. If they're not hiring Power Five coaches, what are the chances Missouri is? (And we're not even mentioning that the Vols' coaching search last year should be bound, printed and sold to athletic directors as a cautionary tale of what can go wrong).
So the reality is, if you look to move on from Odom, you're either hiring a coordinator (you just did that) or a guy who has never coached in a Power Five conference.
It might work. It worked for Missouri with Pinkel. It's working for Georgia with Kirby Smart. Everybody needs his first chance from somewhere.
But the point is, it's a crapshoot. At best, it's a 50-50 proposition. If Jim Sterk goes looking on the coaching market after year three, the odds suggest that much of the fanbase is going to view whoever he can hire as ho-hum. A replacement may be better than Odom eventually, but that's far from a slam dunk. He's not hiring a guy who supercharges the fanbase or puts a significant number of asses in the seats in year one.
Before you venture out on the coaching market, you better know who you are. Maybe Sterk finds that guy like Jimbo Fisher or Bret Bielema who doesn't like where he's at and everyone lauds him for a great hire. But even that doesn't necessarily mean it will work (how did the Razorbacks like Bielema by the middle of last year?).
IN CONCLUSION, MAYBE I'M WRONG
Many will say that you don't keep a guy just because you're afraid you'll do worse. I'll listen to that argument. It could be right.
And, again, if Missouri loses four of its final seven games, none of this matters. If the Tigers go 5-7, forget everything I wrote and I'll tell you they have to go find a new coach. But the odds are that isn't happening. And at six wins or more, I think Odom absolutely deserves at least one more year at the helm to show what he's got.
I know it won't be popular with the angry vocal segment of the fanbase. It will get even less popular if the Tigers lose to Memphis this weekend (I don't think they will). But history and what I'm seeing on the field tells me we should douse the flames and have a little patience here before Missouri ushers its current coach out the door.