Commentary: Time for Mizzou to make a commitment
When Missouri announced it was making the move to the SEC, then head football coach Gary Pinkel said it only made sense if Mizzou was ready to go all-in on every level. Some seven years later, it's time for the University administration to do just that.
In the SEC, it's all about football. And the time has come for Missouri to put some skin in the game if it wants to be a football program that competes for something meaningful in the country's best conference. It's time for the Tigers to lock Barry Odom up for the foreseeable future and tell the rest of college football they believe he can coach.
The skeptics will be outraged at this stance. They will say that Odom is only 17-and-18 as a head coach. They will say that he has never finished above .500 in conference play and has been out of contention for a division title by the time any of his teams started playing well in November.
All of those things are true. And none of them change my stance. Because I don't think the skeptics understand how this works.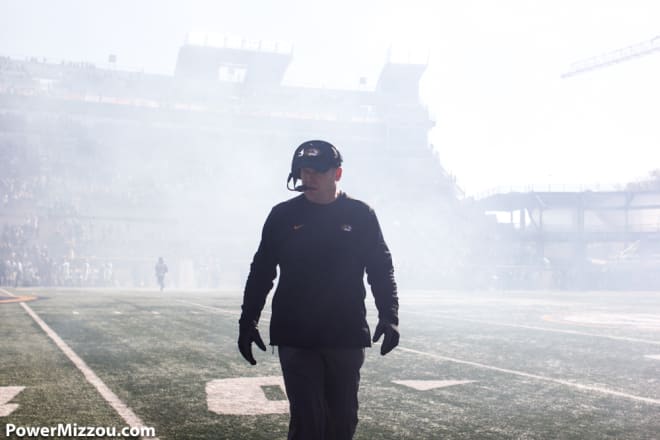 A month ago, I wrote that Missouri should bring Odom back as the head coach in 2019 even if he finished 6-6 this season. The Tigers immediately went out and lost a game in brutal fashion to Kentucky and Odom was front and center among those deserving blame for it.
But I'm not arguing that he deserves an extension and a raise based on this year's record. I'm not arguing it based on next year's record. In fact, I'm saying Barry Odom should get a raise and an extension regardless of what the record is on the field and what the next two weeks may bring.
Midway through last year, it appeared that Odom might be gone after just two seasons on the sidelines. The Tigers were 1-5, without a win over an FBS opponent, and just 5-13 in his brief career. He won seven straight games to save his job, then had his team no-show in a Texas Bowl loss and turned the heat on himself right back up.
Following the regular season, Odom and Missouri agreed to a contract extension...sort of. His original five-year deal was set to run through the 2020 season. Missouri added two years on to that, meaning he would be the head coach through 2022 if he finished the contract. But it added not a penny to his $2.35 million salary and did not increase what it would cost Missouri to buy him out ($450,000 per year on the contract).
It was, as one person told me last year, the least "extensiony" extension in the history of extensions. (Other people used more colorful language in describing it). What Missouri said was this: You did enough to save your job and we know we have to add a couple years to your contract because you have to be able to sit in the living rooms of recruits and tell them you're going to be here throughout their careers, but we don't really have any idea if we think you're the right coach for us, and we're not going to commit one red cent to betting that you are.
After a 3-0 start this season, Odom's Tigers lost three straight games and four out of five and the cries for his job began again. He's since righted the ship with two straight wins, including a 38-17 victory at No. 11 Florida, which was his first win over a ranked team in eight tries. Missouri will be favored in each of its last two games.
But regardless of whether he wins both, loses both or splits, it's time for Missouri to make that commitment. It's time for Jim Sterk to bet on his football coach and show some public confidence in the program. Not doing so would be asking the football program to succeed while publicly saying that you're not sure if it can. If you're asking Odom to go win a fight, you can't tie one hand behind his back.
Odom is currently the 56th-highest paid coach in college football, according to USA Today's numbers. He is last in the SEC by nearly half a million dollars per year. Ironically, Mike Norvell, who was hired at Memphis — the job Odom may well have gotten had Missouri gone another direction in December of 2015 — makes $250,000 per year more than Odom.
SEC Coaching Salaries
| Head Coach | School | Salary (Guaranteed) | Buyout |
| --- | --- | --- | --- |
| Nick Saban | Alabama | $8.307 M | $33.6 M |
| Jimbo Fisher | Texas A&M | $7.5 M | $68.125 M |
| Gus Malzahn | Auburn | $6.705 M | $32.14 M |
| Kirby Smart | Georgia | $6.6 M | $27.917 M |
| Dan Mullen | Florida | $6.07 M | $12 M |
| Will Muschamp | South Carolina | $4.2 M | $18.65 M |
| Mark Stoops | Kentucky | $4.01 M | $15.625 M |
| Jeremy Pruitt | Tennessee | $3.846 M | $11.78 M |
| Chad Morris | Arkansas | $3.5 M | $12.5 M |
| Ed Orgeron | LSU | $3.5 M | $5.29 M |
| Matt Luke | Ole Miss | $3 M | N/A |
| Derek Mason | Vanderbilt | $2.812 M | N/A |
| Joe Moorhead | Mississippi St. | $2.6 M | N/A |
| Barry Odom | Missouri | $2.35 M | $1.91 M |
Many will argue that Odom doesn't deserve to be higher on the list. That the other coaches have done more. For the top half of the league or so, that's certainly true. But Pruitt, Moorhead and Luke have never been head coaches before their current jobs. Morris has not been a Power Five head coach. Mason hasn't done any more than Odom and until this year, it could be argued neither had Orgeron or Stoops.
But it's not just the salary. Look at the buyout column. That's far more telling. For the ten other SEC schools for whom USA Today had the numbers, LSU is the only one that isn't on the hook for at least three times more money than Missouri is for Odom should the coach be fired. And even $5.2 million is no small sum. In other words, every other program in the SEC is betting on its head coach. Missouri is telling its coach "Show Me."
In a Pollyanna world, maybe these coaches would have to prove more before being guaranteed so much money (and in a really Pollyanna world, it would be the professors getting these salaries and coaches getting far less, but let's live in reality here). But that's not the case. This is what coaching salaries are now. This is what Missouri signed up for when it moved to the SEC, where five of the seven highest paid coaches in the country are employed and where everyone understands that to potentially be great, you have to risk making a mistake.
Odom's buyout ranks 71st in FBS football among the schools at which the numbers were published. Here is a partial list of programs willing to spend more money to change coaches than Mizzou: Marshall, Houston, Louisiana Tech, Utah State, Louisiana Lafayette, Florida Atlantic, Florida International, UTEP, Troy, Toledo, UCF, Texas-San Antonio, UAB, Middle Tennessee, North Texas, Cincinnati, Fresno State, Memphis, Boise State, Colorado State, Wyoming. You might notice not a single one of those schools is in a Power Five conference. Louisville just paid Bobby Petrino $14 million to leave. Kansas (yes, Kansas) will pay David Beatty $3 million not to coach after this season. That's more than a million more than Mizzou is willing to risk on Odom.
Let's take a look at one other area where Missouri lags far behind. Here is the total salary for the ten full-time assistants for the 2018 season at every school in the SEC.
SEC Assistant Salary Pools
| School | Total Staff Pay |
| --- | --- |
| Georgia | $6.42 M |
| LSU | $6.4 M |
| Texas A&M | $6.35 M |
| Alabama | $5.957 M |
| Tennessee | $5.835 M |
| South Carolina | $5.1 M |
| Ole Miss | $5.025 M |
| Florida | $4.8 M |
| Arkansas | $4.6 M |
| Kentucky | $4.53 M |
| Missouri | $4.32 M |
| Mississippi State | N/A |
| Auburn | N/A |
| Vanderbilt | N/A |
Of the 11 schools for which we could find information, Missouri pays its staff the least amount of money in the SEC by $210,000 per season (that's close to one coach's full-time salary — the lowest paid assistant on Odom's staff makes $220,000). Only Arkansas, Florida and Kentucky are within a half million of the Tigers.
Missouri's coordinators are also among the lowest paid in the league. Offensive coordinator Derek Dooley makes $900,000 per year. That's hardly a scant living, but it would rank 11th among SEC assistants based on last year's numbers from USA Today, and it's safe to say some of those below Dooley have gotten raises. Defensive coordinator Ryan Walters makes $605,000. That would make him the 27th-highest paid assistant in the league. In other words, there are at least two non-coordinators who make more than Walters does in the SEC alone.
These things matter. They're brought up in wooing coaches. (Much was made of the search for an offensive coordinator last year, and it's clear Dooley was not the first choice. What is unknown is how significant a stumbling block money may have been in landing whoever was). More importantly, they're brought up on the recruiting trail.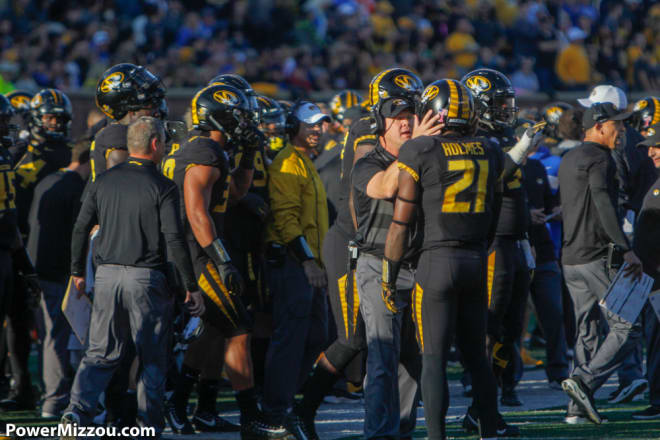 I don't know if Barry Odom is the long-term answer for Missouri football. There have been some encouraging signs this season, but no definitive ones. I just know it's time for Missouri to act like it thinks he's the long-term answer.
The school has poured $200 million into a facilities renovation project. It has gone from four wins to seven to potentially eight or nine. It has distanced itself from the chaos of late 2015 a little bit more every season. It has not yet bet on its coach. It's time to do so.
Asked about Odom's contract status and a possible extension, Jim Sterk gave PowerMizzou.com the following statement:
"Under Coach Odom's leadership the past three years, Mizzou Football has made tremendous improvement both on and off the field, and I believe we have great momentum heading into the final two games of this season. I am excited to work with Coach Odom to build on that momentum and grow our program to fulfill the championship vision that we both share.
"I'm excited for our student-athletes, coaches, staff and fans that Mizzou will be bowling for a second straight year. We aspire to play in the postseason and compete for championships every year, and Coach Odom has joined a select group of Mizzou head coaches who have taken the Tigers bowling twice in their first three seasons in Columbia.
"Last year, we rewarded Coach Odom with a two-year contract extension through the 2022 season and enhanced our assistant coaches salary pool. We will continue to find ways to invest in the personnel and facilities necessary to ensure that Coach Odom's program is well positioned for success in the SEC."
Missouri football is at a fork in the road. The path that involves firing Barry Odom has almost certainly been abandoned at this point, barring something shocking in the next couple of weeks.
The other path involves investing in him and betting on the future. If you're wrong, it will cost you a few million to correct the mistake. But being wrong is better than not making a decision. If Missouri continues to try to walk down the middle of the road, it will find itself in the woods.
Sterk is paid handsomely to make tough decisions. And this one isn't even tough. Back your coach. Invest in the future. Show confidence in the program. If a tough decision has to be made in a couple of years, make it. But making no commitment now essentially cuts Odom's legs out from under him. If Missouri wants to go that route, it would be better off just starting over right now with a coach the administration is willing to trust.
Does Missouri want to compete in the SEC, or is it happy just being in the SEC? It's time to find out.