{{ timeAgo('2023-01-22 08:15:08 -0600') }}
football
Edit
From a farm boy to Aussie rules football to the SEC: Meet Riley Williams
When Riley Williams was growing up in the small town of Wagga Wagga, Australia he didn't dream of being a college football player. Most Australian sheep farmers don't.
One of Williams' earliest memories was actually having his own herd of sheep at a young age.
"We were considered hobby farmers, so my mom and dad had other jobs, but we lived on a farm, so that's what we did," Williams said. "So, I can remember riding horses and motorbikes and helping my dad herd sheep. When I was six years old I got 10 ewes (female sheep) and a ram for a birthday present. So, I had a little population of 11 sheep and by the time we moved back to Sydney for me to start high school I think I had a couple of hundred sheep."
His mother, Peta Rickard, said she and his father gifted Williams with the sheep because he wanted to be a sheep farmer like their neighbors at the time and he always found creative ways to make money to buy what he wanted.
"He and his brother (Rhys Williams) would herd the sheep down to the neighbors' shearing shed and then they would shear the sheep and sell the fleece and when the herd was big enough, they'd sell off some of the fat lambs or sold them to other breeders," Rickard said. "So, that was a little bit entrepreneurial and that's how they made a little bit of money.
"He used the money to buy footballs or buy an Xbox or Playstation or games for the Xbox or Playstation. As a parent, you give the kid so much, but I think if he kept wanting more and more things they sort of needed to be a little self-sufficient. Maybe five or six years old was very young but he brought up the ideas and we went with them."
However, when Williams was nine his parents divorced, so Williams' family sold the farm and he sold his herd for a motorbike.
In an effort to be closer to his mother's family, Williams, Rhys and Rickard moved to the Blue Mountains which are about an hour and a half west of Sydney and he would attend St. Columba's Catholic College from the seventh to 12th grade.
"So, basically went from a farm in dry, regional Australia to beautiful blue mountains and I can describe that best as the Grand Canyon in size, but imagine that covered with trees," Williams said. "It's almost like a scene out of a Jurassic Park movie. It's beautiful. So, we loved hiking, bushwalking and abseiling. I went from being a farmer to an adventurer, so I love doing all that kind of stuff and I kept playing footy on the side."
Williams had hopes of turning Australian rules football into a career.
The end of one career leads to the beginning of a new journey
Australian rules football, also known as "footy," is the country's most popular sport and while it shares some similarities to American football and even rugby, it has a lot of things that make it different. It's played on an oval field and the objective is to kick the ball through a series of goalposts.
Williams played Australian rules football from 2005 until 2020, around the same time he began to pick up punting for American football. However, that was all put to a halt when he got a virus 一 mononucleosis.
"That absolutely rattled me," Williams said. "I was in the hospital for 10 days on IV drips and being fed just liquid meals. I had no energy so unfortunately I had to stop playing sports and all physical activity for about six months. After being in the hospital, I was at home for three months and I was bedridden. The furthest away I could get from my bed was the couch. I was quite devastated because that put a stop to my Australian rules football career and it also paused my American football journey and I really wanted to play in Australia."
Williams never contracted COVID-19, but the toll of having mono on top of the physical demands of playing Australian rules football ended that career for him which is when he fully turned his attention to punting in 2021.
"The hardest part was that afterward, I got chronic fatigue, which is quite common for people after having that sickness," Williams said. "I knew that I couldn't push myself physically the same way I did and punting doesn't require the same physical level of commitment. So, I was pretty okay to keep doing that."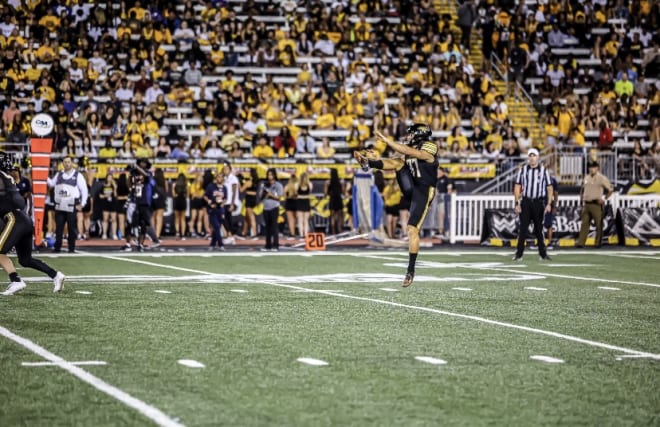 "It's cliche, but you won't get a harder worker at his craft."
Nathan Chapman used to be an Australian football player in the late 1990s 一 in fact he was the second pick in the 1992 AFL Draft by the Brisbane Bears and spent the first four of his eight seasons with the club.
After four years away from the sport he went to the United States and was a punter for the Green Bay Packers in three NFL preseason games in 2004.
Three years later, Chapman founded Prokick Australia in 2007, a football punting and placekicking school in Australia designed to help students learn how to punt and placekick to the standard needed to make it in college football or professional football.
The program, as of January 2022, has placed over 200 students on scholarship with 85 of those players being named an All-American, 15 going to the NFL or CFL and six of them being Ray Guy award winners.
"Absolutely (wish I had this type of program growing up)," Chapman said. "I tried to go the NFL myself and I didn't really know about the college system when I was trying for it, but I'm a big believer on people's pathways and they lead you into certain things and if my calling is helping other guys get an opportunity academically … and get to play some amazing football along the way, then I'm comfortable with that."
To get into the program players get an assessment and if they have potential at the next level then the school will accept them. Williams did the assessment and was accepted and made the 12-hour move to Melbourne and enrolled in the summer of 2021.
Students are asked to work out six days a week and practice kicking at least three days a week and Chapman said it's a hard program, but also said Williams was an ideal person for it.
"They're all young amateur athletes and they've got to get themselves thrust in the limelight in a game they've never played before and I think the hardest thing for them is fully understanding where they're at and what they've got to work on 一 thinking that 'Oh, that looks great on television,' but it's not always great," Chapman said. "Every sport looks easy on television, but it's a different game when you have to step up to the plate and do your thing.
"Riley just has a super focused mindset of being better. Listening with intent, learning and putting stuff into practice. It's cliche, but you won't get a harder worker at his craft."
Williams said the coaches always told him the program would be as hard as he made it, but those words didn't deter him. In fact, it made him and his classmates train harder.
"I was lucky to train with a lot of guys at Prokick who were at the same level," he said. "We wanted the most out of the program that we possibly could. So, we were the guys in the weight room Monday-Saturday often doing two sessions a day and then we were the same guys doing mandatory punting sessions and then took it upon ourselves to do extra sessions with the coaches and sometimes punting on the weekends."
When a student finishes the program like Williams did in June 2022, college football programs will call Prokick and ask them for film of the available players. After a school sees the film, if it likes the player it will send the player an offer. More than 92% of Prokick students receive full-ride scholarships.
Williams accepted an offer from Towson in Baltimore out of the Colonial Athletic Association.
"I told him it's not every day anybody gets a chance to play in the SEC, so if he can give his word now I'm all in."
In early January, Missouri got a commitment from Williams, who was first in the CAA and fourth in the FCS in punting at 44.7 yards per punt on 46 punts in his true freshman season for the Towson Tigers.
His season would include another bout of mono entering week 10 of the 2022 season. He missed practice for three straight days but realizing he wouldn't be able to travel with the team if he didn't practice the Friday before the matchup at Stony Brook, he practiced and went on to have one of his most productive performances of the season.
"I pulled myself together and when I got to practice I was running on a cup of coffee and a couple of antiviral meds and I had one of the best training days I've ever had in my life and then I played on Saturday," Williams said. "It's just about knowing my body for me, that's the key."
Williams had a season-high eight punts for an average of 43.4 yards with one punt landing inside the 20 and two punts going over 50 yards in the 21-17 win.
When Williams decided to enter the transfer portal following the 2022 season it was the equivalent of a hail mary which isn't uncommon for many players. Entering the portal doesn't guarantee a player a spot on another roster. More times than not, the player won't be welcomed back to the school he's leaving if he doesn't find a new home.
Even with that in mind, Williams decided to roll the dice and see what the portal had to offer him.
"I made the decision to enter the portal, ... and it was shortly afterward that I got a call from my coaches in Australia and they said Missouri was interested and I got a call from (special teams) coach (Eric) Link," Williams said. "He said he liked my film and that I would be a good fit here. Then, I remember him saying he knows what it's like for a guy being in the transfer portal and to keep Missouri in mind. I told him it's not every day anybody gets a chance to play in the SEC, so if he can give me his word now I'm all in. Sure enough, I didn't get interest from anybody else."
Williams is all but certain to be named the punter's opening-day starter with Jack Stonehouse having transferred to Syracuse, but his goals in his first season are simple. He just wants to do the job he's asked to do.
"The only thing that I want to do is be an effective punter and be the most effective teammate I can be to help Mizzou football," Williams said. "Anything that comes after is a blessing."
Williams' journey is not the average transfer story, but 16 years and nearly 9,200 miles away his journey has led him from being a sheep farmer to a punter in the SEC.