Two Tigers hit the transfer portal on Saturday
The roster turnover continues for Missouri's basketball team.
Early Saturday morning, redshirt sophomore forward Parker Braun entered the transfer portal Saturday morning, a source told PowerMizzou.com. Braun becomes the second Missouri player with eligibility remaining to leave the program in the past week. Point guard Xavier Pinson entered the transfer portal on Tuesday.
Hours later, senior Mark Smith entered the portal as well. Smith, who transferred to Mizzou from Illinois after his freshman season, was a senior this year, but seniors across the country are eligible to return to college for another year due to the NCAA eligibility ruling in relation to the COVID-19 pandemic. Entering the portal does not mean that Smith necessarily will play another college season, but if he does, it will be somewhere other than Missouri.
Smith considered the Tigers out of high school, but spent his freshman season playing for Brad Underwood at Illinois. He started 60 of the 69 games in which he appeared for the Tigers over three seasons. Smith averaged 10.3 points for his career and shot 37.5% from three-point range.
Smith struggled as a senior, shooting a career-low 31.5% from the field. But he did help lead the Tigers to the NCAA Tournament for the first time in three years and staked Mizzou to an early lead with three first half three-pointers in an eventual loss to Oklahoma.
Smith's departure doesn't change the outlook for the future for the Tigers. It has not been anticipated that any of the five seniors would return to Mizzou for an extra season.
When reached for comment by PowerMizzou.com, Smith declined an interview but said "I love Mizzou and I am thankful for coach Martin and my time here. It's just something I want to do for myself."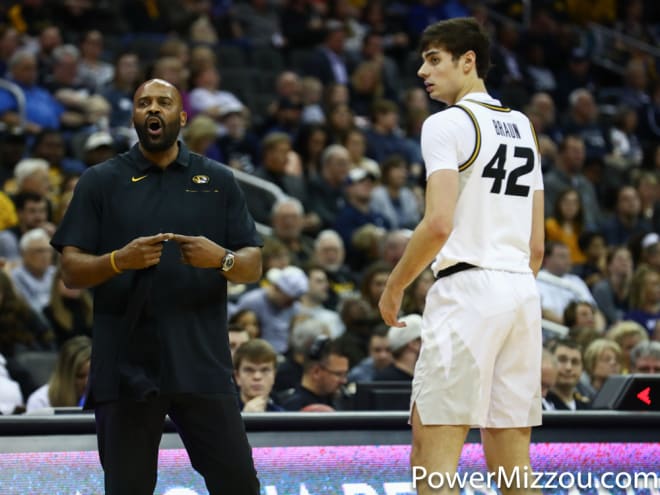 Braun, who initially joined Missouri's roster as a walk-on from Blue Valley Northwest high school in the Kansas City area, averaged 9.3 minutes across 20 games this season. He logged 2.8 points, 1.5 rebounds and 0.7 blocks per game.
Braun is the son of former Missouri women's basketball player Lisa Braun (formerly Sandbothe) and the nephew of former men's player Mike Sandbothe. His brother Christian Braun plays at Kansas.
Braun showed flashes of skill and athleticism at times. He averaged 11.9 points, 6.5 rebounds and 3.0 blocks per 40 minutes, and he shot 40 percent from three-point range, albeit on just 10 attempts. However, his defensive struggles and Missouri's depth limited his playing time. Braun didn't see the floor in three of the Tigers' final four games of the season.
Braun's departure means Missouri now has two open scholarships on its roster. At most, the Tigers are now expected to bring back just five of 12 players from last year's team. None of the team's five seniors, who all have another year of eligibility remaining thanks to the NCAA's decision not to count last season against players, is expected to return in 2021-22. The Tigers have already signed five prospects in the 2021 recruiting class and landed a commitment from Green Bay guard Amari Davis on Thursday.
The loss of Braun likely means the staff will look to add a frontcourt player via the transfer portal. With Braun gone, the only big men on Missouri's roster are Jordan Wilmore, who played just 26 minutes in his first year on campus last season, and Yaya Keita, an incoming freshman who is recovering from a torn ACL.