Notebook: Drinkwitz to keep starting QB a secret
Eli Drinkwitz doesn't yet know who will start behind center for Missouri when the Tigers open the 2020 season on Sept. 26 against Alabama. Even when he does make the decision, don't expect him to share it.
Speaking with reporters following Missouri's second practice of fall camp on Tuesday, Drinkwitz revealed his plan to keep the Crimson Tide guessing about who will start at quarterback.
"We ain't telling nobody," Drinkwitz said. "Everybody's gonna have to guess, and it's going to be used as an advantage for us."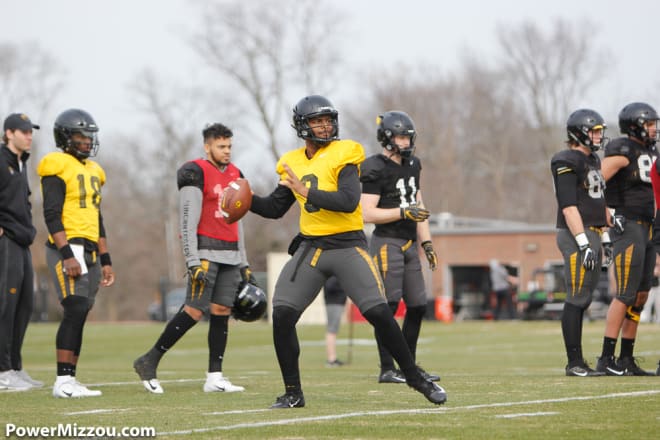 Drinkwitz said there's no set timetable for identifying a starter. TCU transfer Shawn Robinson, redshirt junior Taylor Powell and redshirt freshman Connor Bazelak are expected to be the main contenders for the job. It's possible the competition could last past the season-opener. But with fall camp closed to the media, don't expect any reports about a frontrunner.
Drinkwitz views the secrecy as a way to capitalize on all the uncertainty surrounding the Missouri program right now. Never before in his coaching career has he kept the starting quarterback a mystery, but he's also never taken over a new team in the midst of a global pandemic, or opened the season against Nick Saban and perennial national title contender Alabama.
It's not just the quarterback who Drinkwitz hopes to keep a mystery, either. Since no film exists of this Missouri team running Drinkwitz's system, there's no way to know which aspects of Drinkwitz's past offenses he'll feature, or which ideas he might adopt from the past stops of his assistants. At the very least, he said, it'll keep Saban and his well-stocked support staff busy.
"The person who's going to play us first has no idea if they're going to scout Washington tape, UAB tape, TCU tape, App State tape, NC State tape," Drinkwitz said. "They don't know which quarterback to prepare for, whether to watch high school tape from that kid, they don't know whether to watch the Arkansas game from last year, Georgia game from last year, TCU games from two years ago.
"I'm just creating a workload for somebody."
Players react to schedule reveal
In one of the many oddities about the 2020 offseason, Missouri actually kicked off fall camp without knowing what team it would face to begin the season. The Tigers' opponents for the upcoming 10-game, conference-only schedule had been revealed, but the order wasn't decided until Monday. The full schedule can be found here.
At least one player, senior defensive tackle Kobie Whiteside, expressed excitement about opening the season against Alabama. The slate doesn't get much easier from there, as the Tigers face two other top-10 teams from the preseason Amway Coaches' Poll in the first five weeks — No. 5 LSU and No. 8 Florida — but Whiteside relishes the chance to match up against the best.
"I'm really psyched for it," Whiteside said. "Knowing that I'm about to play some future stars and future NFL guys and I can play against them and try to prove myself with these guys, I'm happy. I'm happy for the competition."
Redshirt junior linebacker Aubrey Miller Jr. also expressed excitement about the schedule, pointing out that it would give him a chance to prove himself in front of a wider audience of scouts and fans after he missed all but one game last season with a leg injury.
Don't take that to mean the team is looking forward, though. Drinkwitz stressed that right now, the focus is not on Alabama, but Missouri. Senior defensive end Chris Turner had a similar message.
"Right now we gotta figure who we are as a team before we worry about who we play Week One, or who we play at all this season," Turner said.
Drinkwitz said the team has a long way to go before it can start focusing on the first opponent, even if that opponent is Alabama. His message to players following yesterday's schedule reveal was that "Mizzou is worried about Mizzou right now." He said the team will spend 18 or 19 of its allotted 25 fall camp practices — about four weeks — installing its own system before shifting its attention to game-planning for the Crimson Tide.
"Mizzou's got plenty of issues to fix that we've got to work on, and if we start focusing on the Week One opponent right now, we're going to miss laying the foundation and improving," Drinkwitz said. "So that's what we're focused on. We'll spend the better part of 18, maybe 19 practices on Mizzou, working on different scenarios, working red zone, four-minute, two-minute, backed up, game ending, before half, last plays of the game, second-to-last plays. All the different scenarios that can come up, we'll make sure that we run those, make sure that we're ready for those situations, and then once we get to that, we'll get into game week for Week One. But right now our priority is Mizzou."
Pass rush inspiring some optimism
It's become an annual question for defensive players during fall camp: How can Missouri improve its pass rush, particularly at defensive end?
On the surface, there doesn't appear to be much cause for optimism in 2020. The Tigers ranked No. 106 nationally with 19 sacks last season, and only four of those came from the defensive end spot. Only three defensive ends who logged at least 100 snaps in his college career return to the roster, and one of those, junior Jatorian Hansford, will miss all of camp due to a shoulder injury that required offseason surgery.
"It's been a big point this whole offseason, trying to get our pass rush better, be way better pass rushers," Turner said.
Despite all that, Drinkwitz expressed an optimistic outlook on the pass rush. Even though he joked that the only time he communicates with defensive players during practice is when he's talking trash, Drinkwitz believes Missouri has the necessary talent to pressure the quarterback without blitzing and a system that can create opportunities for them to do so.
"Coach (Ryan) Walters' scheme does a lot of different movements, so it gives people a chance to be one on one in the pass rush," Drinkwitz said. "So I absolutely think there's some guys that are going to step up."
As part of his reasoning, Drinkwitz said a number of Missouri's defensive linemen have the versatility to play both inside and out, whichever presents the better matchup. Senior Akial Byers fits that bill; two seasons ago, Byers played mostly end, but slid to tackle on occasion. Last year, he played almost exclusively on the interior. This camp, he said, he's back to playing all four defensive line spots.
"I move wherever they need me," Byers said. "If somebody drops and I'm on the field already, I just move to their position. They just throw somebody else in at tackle, I'll go to end or something for a play or two. And after that I'll move back inside. I can do it all."
Drinkwitz also mentioned a player who generated high hopes last season but hardly saw the field: senior Sci Martin. The junior college product joined the roster a year ago but failed to rise up the depth chart, playing just 17 snaps all season. His talent was never in doubt, however. Martin signed with LSU out of high school after racking up 33.5 tackles for loss during his senior season. If he can finally put all the pieces together at the college level, it could be a welcome boon for the Missouri defense.
Ultimately, Turner, the most experienced defensive end on the Missouri roster, said it won't matter who is lined up where. Improving the pass rush will ultimately come down to players doing a better job of winning one-on-one matchups with opposing offensive linemen.
"If you get a one-on-one, you have to win it," Turner said. "Every day of the year you just come ready to work, come in focused on the little details of the pass rush, just come try to get better every day at practice, and that will come with it."