Spring Preview: Wide Receivers
Missouri will open its second spring under Barry Odom next month. Over the next two weeks, we preview spring ball position by position.  Today, it's the wide receivers.
                            SPRING FOOTBALL 2017:  WIDE RECEIVER
THE STARTERS: The Tigers return all three starters. J'Mon Moore was up and down, but put together the SEC's only 1,000-yard receiving season. Dimetrios Mason was an all-freshman performer in the SEC with 587 yards on 42 catches with three touchdowns, all second on the team. Johnathon Johnson showed electrifying potential both in the passing game and on returns. He averaged 18.1 yards per catch, the most of anyone with more than five receptions.
THE BACKUPS: The candidates are many here. Five main players look to be in line for playing time. Raymond Wingo and Richaud Floyd got periodic playing time and Wingo even had a 100-yard game against Delaware State. Emanuel Hall started six games and had 307 yards on 19 catches. Nate Brown returns from an injury that caused him to redshirt and Justin Smith, who battled injury himself much of the year, is an enticing red zone possibility.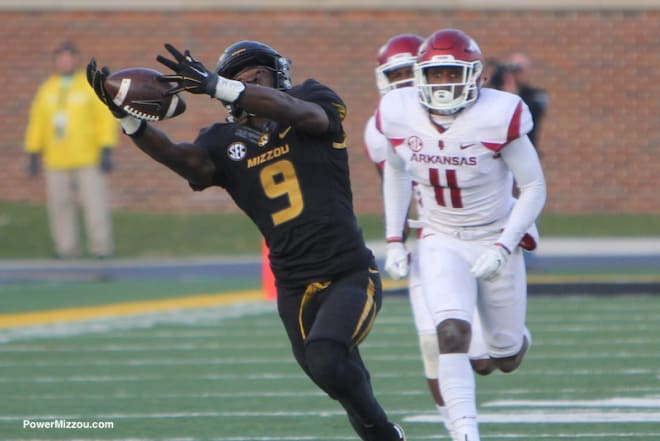 Potential Storylines: It's really about the second-stringers. Which three emerge as the main reserves? One big key there will be how Brown looks coming back off of injury. He was Mizzou's leading receiver in 2015, but didn't play at all last year. His return to the receiving corps gives Drew Lock another potential option and adds depth to a group that was great at times, but had trouble with consistency and hanging on to the football.
Spring Prediction: Brown and Hall seem to be likely candidates for the fourth and fifth spots in the rotation. We project a big spring out of Justin Smith to put himself firmly in the rotation. The Tigers will play eight to ten receivers, but the bulk of the snaps should go to about six of them. Look for Smith to emerge as that sixth receiver.
Help on the Way: Do-everything athlete Da'Ron Davis will hit campus along with Texas speedster O'Shae Clark. The Tigers don't necessarily have a need for a true freshman receiver to see the field, but one of these guys could put themselves in position for playing time with a strong summer.
                                         MORE SPRING PREVIEWS
Coming Tomorrow: Tight Ends